Struggling to find more customer?
The Ultimate Marketing System Proven to Get Results
We will install the Marketing Operating System into your business that been proven to form the foundation of every successful service based business
Why A Marketing Operating System?
Most businesses fail at marketing because they either don't know what to do or they don't know how to do it.
This is where a Marketing Operating System Comes In.
A Marketing Operating System is like a subway system that has been optimised to get your prospects booked into a meeting with you already presold and ready to buy.
Why A Marketing Operating System?
Most businesses fail at marketing because they either don't know what to do or they don't know how to do it.
This is where a Marketing Operating System Comes In. The Sling is an All-In-One Sales and Marketing Platform that has all the
marketing and sales strategies needed to grow your business BUILT IN.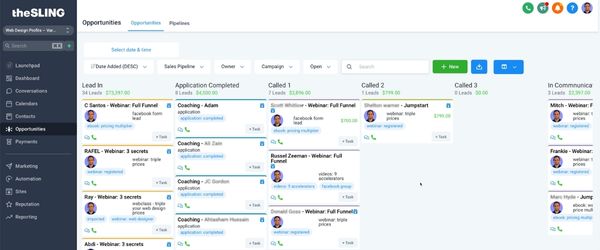 The Sling Platform every sales and marketing feature required to build your business in one app.
The Platform includes email marketing, marketing automation, CRM and sales pipeline, SMS, social messaging and 20+ more features.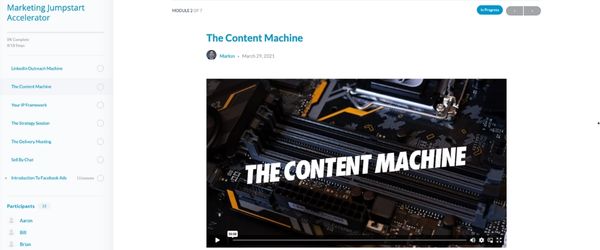 Ever signed up for a marketing app and never used it? Most businesses never use a marketing app properly because they don't know how to. The Sling comes with all the strategies required to convert leads into client pre-built in. All you have to do it turn it on.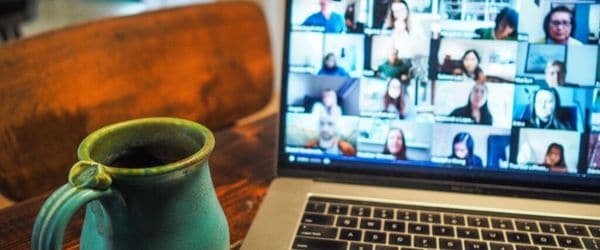 Want someone who has executed all the marketing campaigns in The Sling looking over your shoulder and helping? We hold weekly coaching calls with our users so they can execute and get feedback on every marketing tactic in The Sling.
The Sling Replaces All These Apps
The Sling is an all in one sales and marketing platform that makes saves
time and money by including all the apps in one solution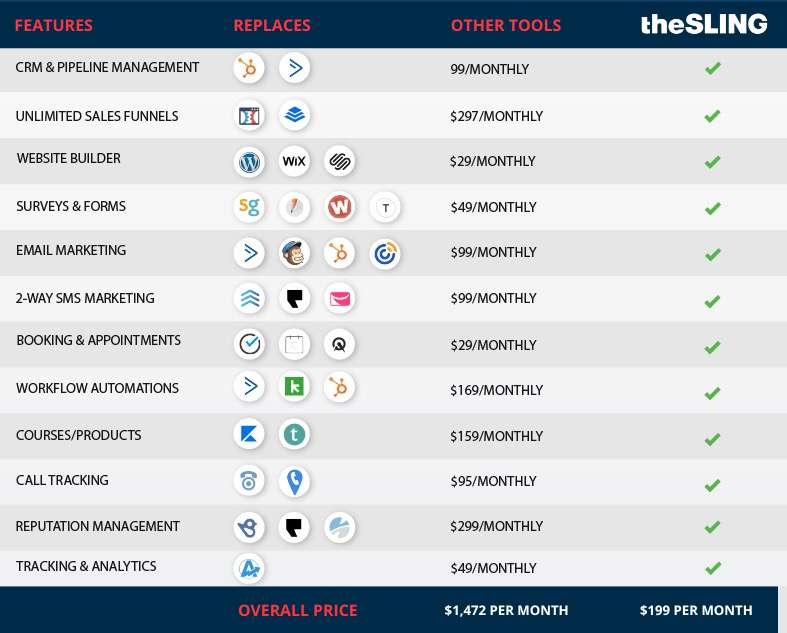 A New Way To Grow Your Business
We have built tried and test marketing strategies into The Sling so you don't have to figure it out yourself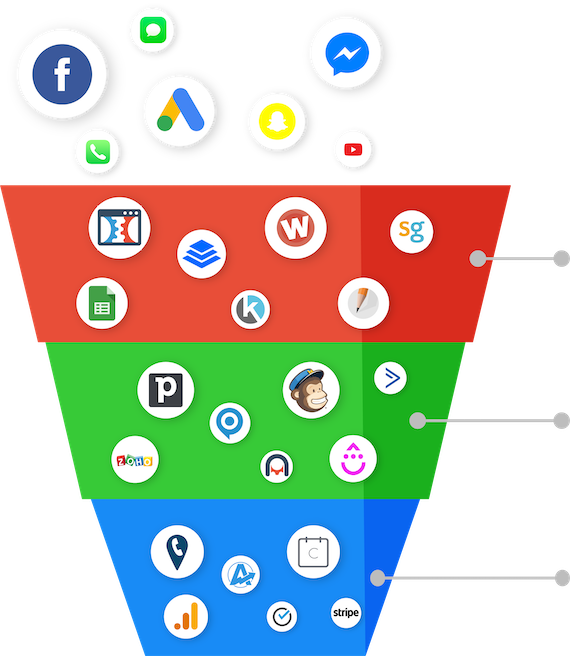 Step 1: SELECT YOUR PLAYBOOKS
We help you build your sales and marketing strategy using our playbooks
Step 2: SETUP YOUR MARKETING SYSTEM
We setup your marketing system on The Sling Platform using the playbooks
Capture leads using the prebuilt marketing funnels tempaltes and automations
Nurture your new leads using email, SMS, social messaging and prebuilt nurture sequences.
Book appointments in your calendar with your new leads and move them along the sales pipeline to convert them into clients
Everything Your Need To
Grow Your Business
Every clients gets a ebook lead magnet funnel built for them and integrated into their website to generate leads
The Sling also includes a two week email sequence to nurture every new lead that enters The Sling CRM to move them quickly into a booked appointment
Convert Leads Into Appointments
The Sling has built in lead nurturing tools like email, SMS, and social media messaging to move leads along the sales process
Sales Pipeline Management
If you don't measure you can't improve. The Sling comes with a powerful sales pipeline to ensure no lead is lost and you convert every opportunity into a client
Online Payments, Invoicing and Subscriptions
Reduce the time it takes to get paid with in-built invoicing and online payments 
The Sling is setup so it is Facebook and Google Ads ready.
See What's Working In Real Time
Tracking all your marketing activities is important if you want to improve. The Sling has built in dashboards so you can measure and test everything
Sales and Marketing Automation
it takes 10+ touch points for a prospect to make a buying decision. The Sling has built in sales and marketing automation to ensure prospects are not lost but are converted
We have built tried and test marketing strategies into The Sling so you don't have to
figure it out yourself. We call these Blueprints and you can select the
right ones for you to grow you business.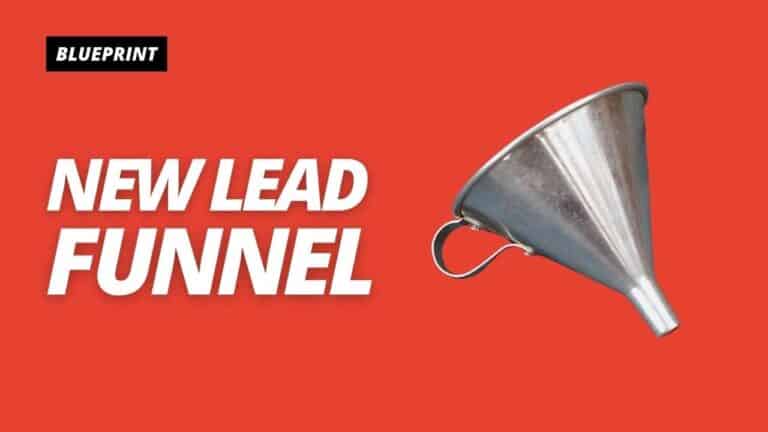 Filling your CRM with new leads is the cornerstone of every marketing strategy. The New Lead Sequence is the best way to attract and capture new leads.
The Blueprint includes:
eBook Templates and Worksheets
Email Follow-Up Sequence
Funnel Landing Pages
Workflows and Automations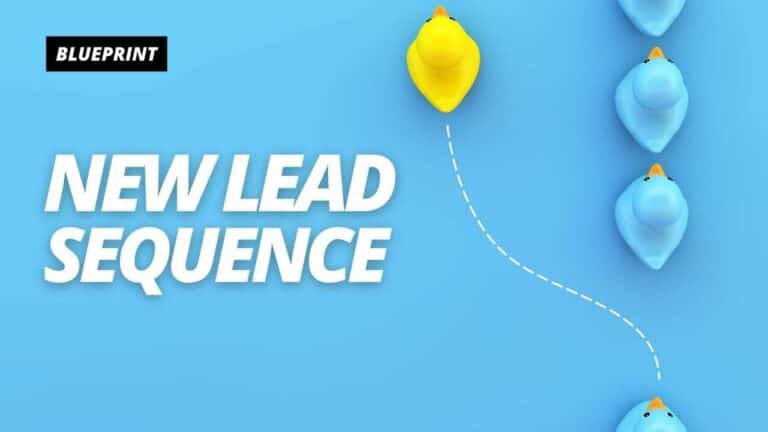 There is a two week period where every lead needs to be contacted to convert as many of them into appointments. The New Lead Sequence is a two week campaign that turns new leads into appointment.
The Blueprint includes:
Fill in the blank email templates
Workflow structure
Integration into New Lead Sequence
Full Training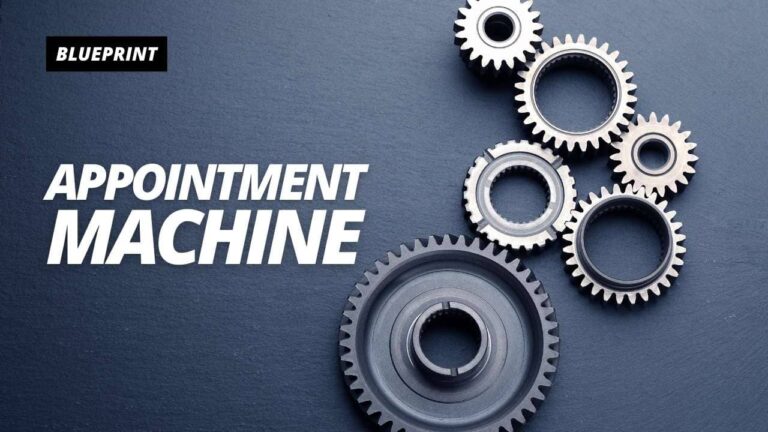 There is a formula to getting a new lead to booking an appointment. We call it the Appointment Machine and in this playbook we give you all the moving parts required to get appointments automatically booked into your calendar.
The Blueprint includes:
Funnel Landing Pages
Reminder emails for booked appointments
Appointment conversion tool
Full workflow with automations
Social media is a powerful, but many businesses don't see a return from their hours of investment. This playbook shows you how to use social media to become omnipresent with your prospects and get more appointments book in your calendar.
The Blueprint includes:
Content Matrix for creating content ideas
Content calendar
Content call to action formula
Social Media Funnels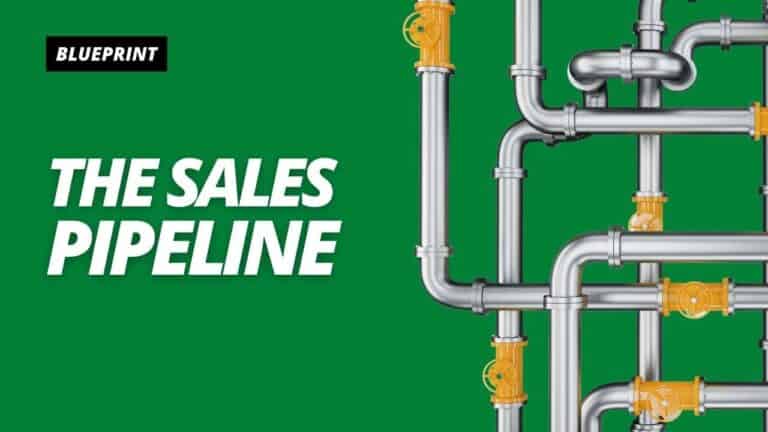 There is no point in generating leads if you don't have a rock solid way of converting those leads into clients. This playbook provides you with the system that will help you boost your sales process to increase your conversion rate and make more sales.
The Blueprint includes:
Sales scripts that boost conversion
Sales Pipeline built into The Sling to follow up leads
Sales automation to magically follow up with leads
Sales training and accountability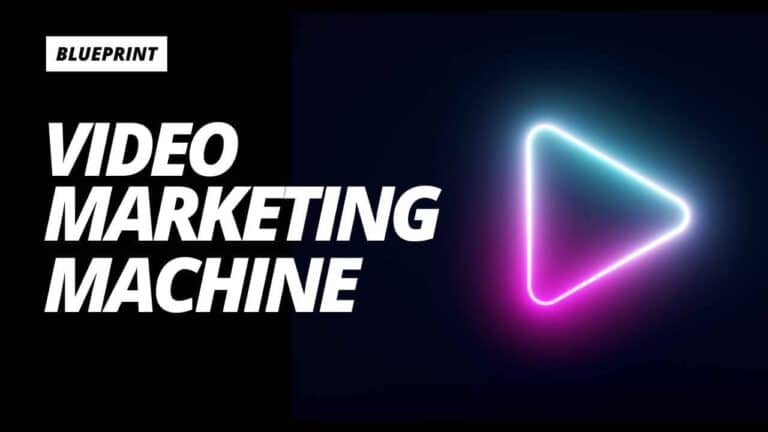 Content is the fuel that powers your marketing machine. The Content Machine playbook includes everything you need to create video content that can be repurposed to attract, nurture and convert cold prospects into high paying clients.
The Blueprint includes:
Fill in the blank Video templates
Instructional videos on how to edit and publish videos
5 marketing campaigns you can execute from every video you produce
You need a marketing system not another marketing tactic
Unfortunately, most web designers don't understand marketing and sales, so they build you a beautiful website that looks pretty but doesn't build your business.  
Your website is your most important marketing asset and it should be more than a beautiful brochure.
This is not 1994 anymore and your website should also be integrated into your marketing and sales funnel.
We build websites that attract, capture and convert visitors into clients.
Want a Marketing System that will grow your business?
Join the top 3% of your industry who are dominating their competitors
Once you become a member you will never need to look for marketing advice again. We are marketing experts not just website builders and we actively help you grow your business
If you are not 100% happy with your website and platform we will offer you a refund. We want our members to be confident in our platform.
Unlimited lifetime support
Whether you need a new page created or a sentence update on a page we will do it for you. You never have to try to update your website again.
Unlimited marketing training
We have weekly group coaching calls on zoom, monthly live marketing training, and a catalog of prerecorded training workshops. If you want to learn to sell more, we will show you how
We have worked in your industry before and will give a you a proven marketing system that has worked in the past
We create marketing systems that work while you sleep. Our systems are not dependant on you
Want to know if what we do works? Here what our clients have to say about their Sales Driven Website.
ready to install The Ultimate Sales and Marketing System Today?
Book a strategy call with Marlon to have all your questions answered.